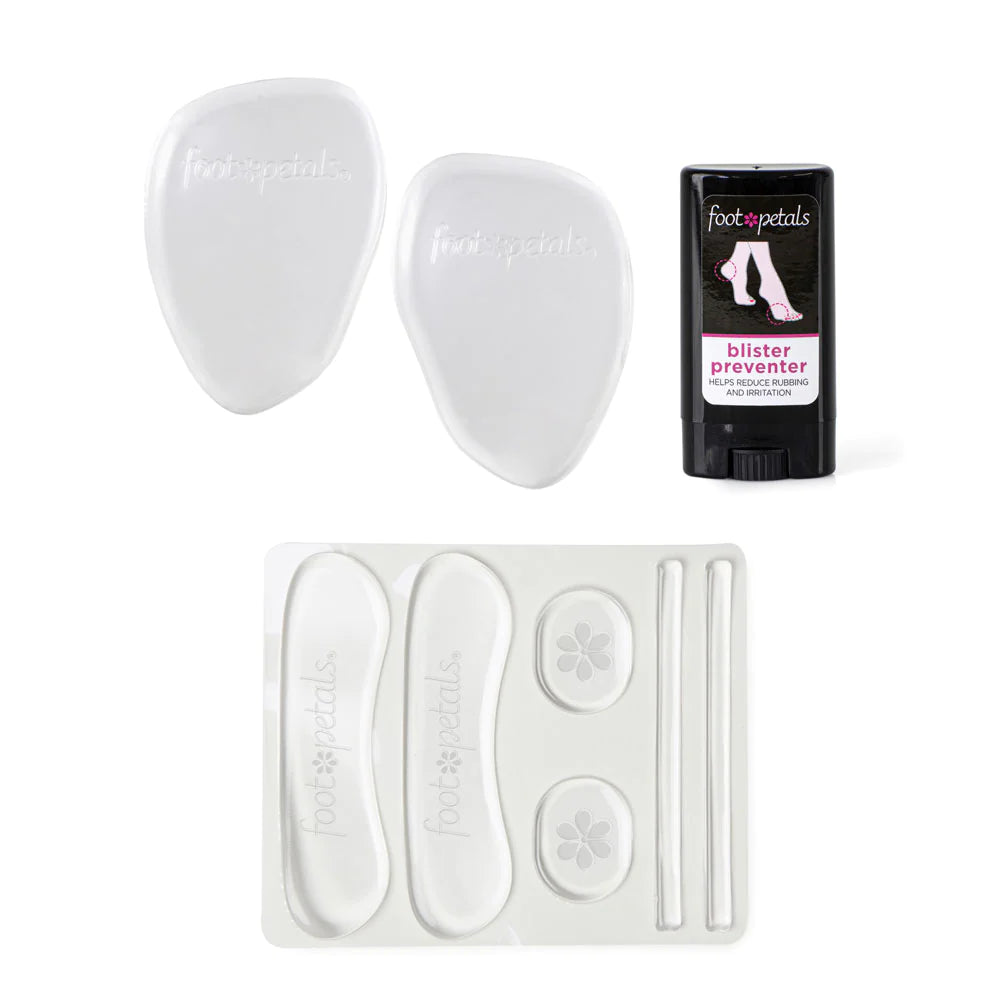 Shoe Emergency Kit
Regular price $15.00 Sale
Gel ball of foot cushions keep feet from sliding forward, reducing burning pain and preventing calluses; Eliminate ugly overhang and toe scrunch; Help you walk with perfect posture for overall back and leg relief
Gel back of heel cushions

keep heels from slipping in and out of shoes, giving shoes the perfect fit by helping with sizing and fit issues; Reduce blisters and ankle chaff

Gel spot cushions

add cushioning to trouble spots in shoes, reducing rubbing and friction, and preventing calluses and blisters

Gel strap cushions

help to reduce rubbing and keep straps from digging into skin while preventing blisters or marks on the feet and heels

Slim designs offer comfort while remaining discreet
Gel provides three-dimensional pressure distribution and superior shock absorption, reducing stress on pressure points and providing long lasting cushioning that never goes flat
Adhesive backing can be washed with soap and water to restore adhesion, making these cushions reusable from shoe to shoe
Blister preventer forms invisible barrier to reduce rubbing and irritation
Kit Contents
Includes one pair Ball of Foot Cushions, one pair Back of Heel Cushions, one pair Spot Dot Cushions, one pair Strap Cushions, and one Blister Preventer Anti-Friction Balm
Don't let something small ruin your favorite shoes! Ball of foot cushions keep your feet from sliding forward and reduce discomfort, while back of heel cushions ensure a better fit for your favorite styles. Spot cushions and strap cushions reduce rubbing and friction to prevent calluses and blisters. And with our innovative blister preventer balm, you'll never have to worry about painful rubbing again!


About the Technology:
This patented, revolutionary gel is like no other. Its 3-dimensional shock absorption reduces stress on pressure points to provide superior comfort with every step. These virtually invisible cushions contour to your feet and provide long lasting cushioning that never goes flat.